According to The Housing Industry Association's (HIA) New Home Sales Report, a survey of Australia's largest volume builders, total new home sales ended 2015/16 on a higher note.
"The overall trend is still one of modest decline for new home sales, but a bounce of 8.2 per cent in June 2016 highlights the resilience of the national new home building sector," HIA chief economist Harley Dale says.
"The overall profile of HIA New Home Sales is signalling an orderly correction to national new home construction in the short term, as are other leading housing indicators.
"Below the national surface, the large geographical divergences between state housing markets have been a prominent feature of the current cycle – that will continue. The New Home Sales series highlights this fact.
"Comparing the June quarter this year to the same period last year, detached house sales are down very sharply in South Australia (-21.4 per cent) and in Western Australia (-27.5 per cent), yet sales are up by 17.0 per cent in Victoria and by 7.1 per cent in Queensland."
New South Wales rounds off the detached house coverage and sales are down by 7.3 per cent on an annual basis there.
The sale of detached houses bounced back by 7.2 per cent in the month of June 2016.
Multi-unit sales continued their recent recovery, growing by 11.5 per cent after a lift of 4.9 per cent in May.
In the month of June, detached house sales increased in all five mainland states, with the largest increases occurring in Queensland (+14.9 per cent) and WA (+9.1 per cent).
Detached house sales increased by 7.5 per cent in NSW, 3.7 per cent in South Australia, and 2.2 per cent in Victoria.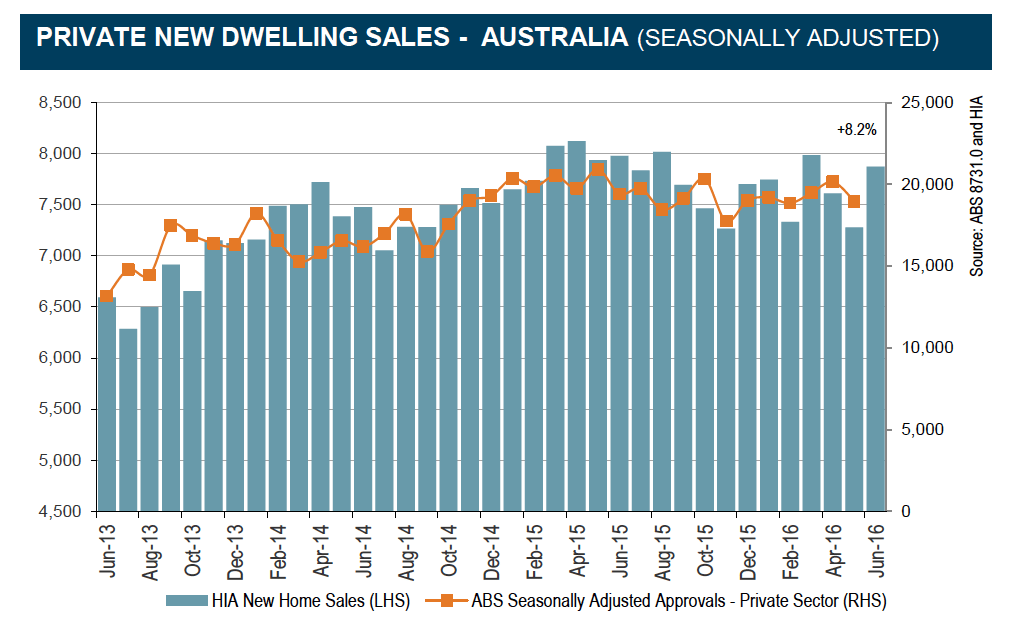 Article source: http://feedproxy.google.com/~r/API_Property_News/~3/0324YvoULq4/