Luxury residential property in Sydney is approximately twice as affordable as Monaco, Hong Kong and London, according to property consultancy Knight Frank's latest report, the Australian Prime Residential Property Market Insight – April 2016.
Using the results of Knight Frank's Prime International Residential Index (PIRI), a study is undertaken each year that determines the amount of luxury property, in square metres, $US1 million will buy around the world.
The report found that Monaco is tightest, covering only 17 square metres, followed by Hong Kong at 20 square metres and London with 22 square metres. In Sydney, close to double this size can be purchased, at 40 square metres (down from 41 square metres in 2014). Melbourne is larger again, covering an area close to 116 square metres.
According to Knight Frank's director of residential research Australia Michelle Ciesielski, the value of prime (luxury) global residential property markets globally rose on average by 1.8 per cent in 2015.
"This was similar to the 2 per cent growth recorded a year earlier," she says. "However, in 2015 over 66 per cent of the PIRI 100 locations recorded flat or positive price growth, compared with 62 per cent in 2014."
Ranking the top 25 cities in the PIRI 100, Vancouver leads the rankings by some margin, with prices accelerating 24.5 per cent in 2015.
"Sydney follows in second place, with growth of 14.8 per cent," Ciesielski says. "Many comparisons can be drawn between the two cities – a lack of prime supply, coupled with foreign demand, spurred on by a weaker Canadian (and Australian) dollar are all factors explaining both cities' stellar performances."
Ciesielski says prime residential property prices in Sydney rose 14.8 per cent in 2015, while Melbourne prime property prices grew 11.9 per cent.
"Knight Frank correctly predicted the Sydney and Melbourne prime residential property markets would outperform other global cities in 2015.
"Price growth in the Sydney and Melbourne prime residential markets, although lagged, have generally followed an upward trajectory in the Australian share market, when indexed to December 2008.
"Post the Lehman's collapse to December 2015, coming off a lower base, the Melbourne prime market recorded cumulative growth of 31 per cent while prime Sydney prices grew by 30 per cent."
Ciesielski says that when isolating performance since June 2012, Sydney prime prices grew 33 per cent, compared to 27 per cent in Melbourne.
"Since this time, the upswing in the share market, along with other stimulus such as favourable business conditions – and more recently a stable political environment – has renewed the confidence in the prime end of the market.
"Despite this vast capital growth in both prime markets over the seven-year period to December 2015, the broader mainstream market in Sydney and Melbourne significantly outperformed at 80 per cent and 52 per cent respectively."
Back on the subject of prime property, Ciesielski says: "Across the past decade there has been limited new supply of prime residential properties built by global standard; especially within close proximity of the Sydney CBD and with uninterrupted harbour views.
"However, over the next 10 years, there are potentially three prime residential towers in the revamped Circular Quay precinct; within close proximity of the renovated Circular Quay wharves and the new Sydney Light Rail Terminal. There are another four towers in Barangaroo proposed, including part of the new Crown Casino.
"In the pipeline for Melbourne city, One Queensbridge will accommodate high-end luxury with the most expensive apartments Melbourne has yet to experience, as well as Australia 108, which is now under construction. Both are well-positioned for vantage points along the Yarra River and enjoy views of the CBD."
There continues to be limited new stock available at the high end of the market in prime locations – especially in Sydney – yet there's continued demand from foreign buyers not meeting the investment migrants' criteria of the Significant and Premium Investment Visas.
"These foreign buyers must buy a 'new' property in order to comply with the federal government's foreign investment regulation," Ciesielski explains.
"This demand for foreign buyers comes at a time when the purchasing power of the lower Australian dollar has been much stronger, notwithstanding a recent rally.
"Many foreign buyers have already seen success in other global cities after buying into new projects where new life has emerged in once obsolete inner-city areas; these buyers are now in a position to add a Sydney or Melbourne property to their global portfolio.
"In fact, of the most important global cities to UHNWIs [ultra high net worth individuals] – for where to live, invest, educate their children, grow their business, network and spend their leisure time – Sydney enters the top 10 list at eighth place in The Wealth Report Attitudes Survey, up from 14th place in 2015," Ciesielski says.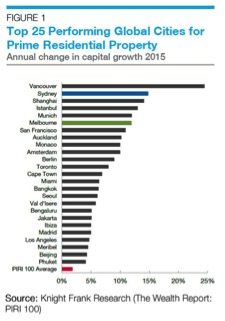 Article source: http://feedproxy.google.com/~r/API_Property_News/~3/qRIREqV8NzQ/