The Housing Industry Association (HIA) has released the latest edition of its Renovations Roundup report, which offers a comprehensive quarterly analysis of the home renovations market in each of the eight states and territories, as well as outlining forecasts for future renovations activity.
Renovations Roundup also provides results of the HIA Renovations Survey undertaken in February, in which more than 900 businesses and individuals participated.
"The HIA Renovations Survey provides a comprehensive update on conditions within the sector," HIA senior economist Shane Garrett explains.
"Repairs and maintenance are the most popular type of job, followed by kitchen and bathroom renovations."
"A significant 24 per cent of renovation jobs fall within the value range of $12,000 to $40,000.
"The survey also found that 13 per cent of renovation jobs fell in the range of $200,000 to $400,000. This reflects demand for comprehensive renovation work that covers a large part of the footprint of an existing house and is an area of the renovations market that should gather momentum in coming years."
According to Garrett, total renovations activity grew for a second consecutive year in 2015, rising by 4.4 per cent.
"However, the recovery remains quite fragile and there is considerable geographic variation to activity," he explains.
"Several markets are benefitting from the improving labour market along with stronger dwelling price growth.
"In other places, weak earnings growth, relatively low turnover of established houses and tighter credit conditions are holding activity back."
The Renovations Roundup projects that renovations activity will increase by 0.7 per cent this year with growth of 1.7 per cent forecast for 2017.
HIA says that it projects that activity will grow by 2.8 per cent in 2018 followed by a 3.2 per cent increase in 2019, bringing the total volume of renovations activity to $33.02 billion.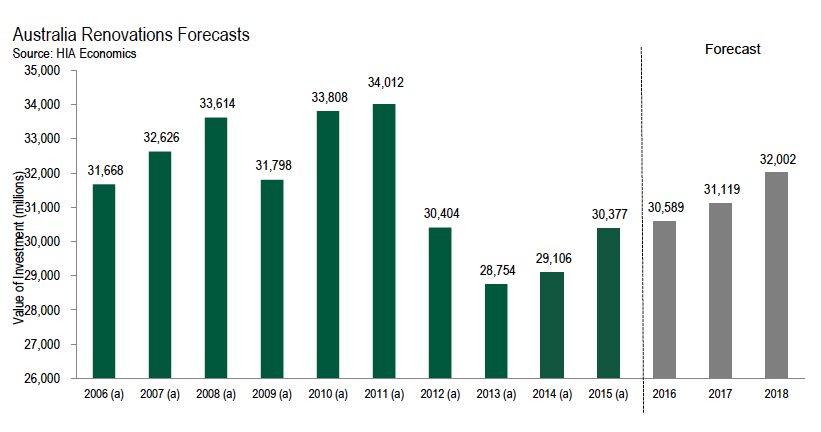 Article source: http://feedproxy.google.com/~r/API_Property_News/~3/D7HxtUffuvU/