Rental rates showing little signs of increasing
Posted on Friday, November 13 2015 at 2:48 PM
Rents can be a key indicator for property market conditions across Australia's capital cities.
The
CoreLogic RP Data rental review, distributed each month and released recently covering
October's rental market activity, provides a deep-dive analysis into the impact
rental rates may or may not be having on capital city property markets. 
The October
analysis shows rents across the combined capitals were virtually unchanged in
October, down by -0.1 per cent over the month, with rents lower in four of the
eight capital cities. The annual rate of change has increased slightly from 0.5
per cent in September to 0.6 per cent in October.
CoreLogic RP
Data research analyst Cameron Kusher says: "The data points to an ongoing
softening of rental growth, particularly throughout this year. With just two
months remaining to year's end, it seems that rental growth will be very soft
over 2015."
Kusher points
out that the construction boom across the capital cities, coupled with slowing
population growth, low mortgage rates and the recent heightened level of
activity from investors, are the major contributing factors to the slowing
rental growth.
"Sydney,
Melbourne and Brisbane continued to record rental rises over the past year,
however each city is seeing a slowing in the pace of rental growth relative to
12 months ago," he says. "Clearly, the increase in investment stock is
providing landlords with little scope to lift rental rates while the low
mortgage rate environment provides little incentive to push yields higher."
National overview:

Dwelling rental rates across the combined capital cities
are recorded at $483 per week and they have increased by just 0.2 per cent over
the first 10 months of the year while they've risen by 0.6 per cent over the
past 12 months.
Weekly rents across the combined capital city measure fell
by -0.1 per cent in October, but on an annual basis they recorded a slight rise,
taking annual rental growth to 0.6 per cent.
Only Sydney and Melbourne have recorded rental increases
greater than 2 per cent over the year.
Rents have fallen over the year in Perth and Darwin, while
the remaining capitals have seen rents rise by less than 2 per cent over the
year.
Currently combined capital city rental rates are $487/week
for houses and $463/week for units.
It's anticipated that the
rate of rental growth will continue to slow over the coming months due to
increased supply of housing and rental stock and slower migration rates. 
Looking
across the individual capital cities, over the past year Sydney and Melbourne
have recorded the greatest increases in weekly rents. Over the past month,
weekly rents have moved lower across every capital city except Sydney, Hobart
and Canberra, where they rose, and in Melbourne where they were unchanged. Over
the past three months rents are lower in all capital cities except for Sydney
and Melbourne.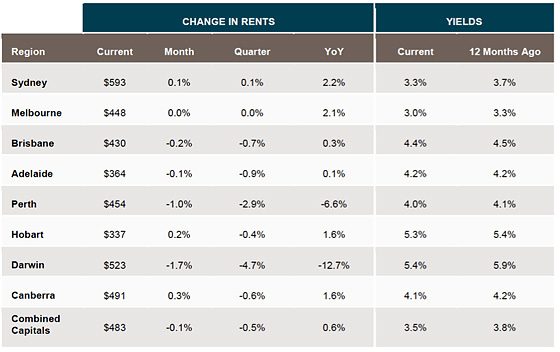 Was this article helpful? Place a link to it from your website, or share it using the button below.

Recent articles:
Rental rates showing little signs of increasing

Tasmanian town planning laws to be simplified

Australian cities top global price growth list

RBA holds cash rate once more

Change in the air for NSW

Rate pain not over yet, investors warned

Leave a comment
Comments
Article source: http://feedproxy.google.com/~r/API_Property_News/~3/JIPjKrmPpIw/rental-rates-showing-little-signs-of-increasing