Detached house new home sales remain high
Posted on Friday, October 02 2015 at 11:40 AM
The Housing Industry Association (HIA) New Home Sales Report, a survey of Australia's largest volume builders, recorded an increase in August 2015, with the level of activity only just short of the high reached in April this year.
"Total seasonally adjusted new home sales increased by 2.3
per cent in August this year, driven by a 3.5 per cent rise in detached house
sales," HIA economist Diwa Hopkins says. "Multi-unit sales, however, declined
by 1.7 per cent.
"It's becoming increasingly apparent that total sales
activity has already peaked this year, but today's update shows that sales are
remaining elevated."
The overall developments in both HIA New Home Sales and the
equivalent ABS measure, building approvals, are consistent with the HIA's
outlook for actual new home building activity in 2015/16, according to Hopkins.
"We're forecasting total dwelling commencements to ease back
from what we expect to have been the peak level in the financial year just
passed, but still remain elevated."
Detached house sales increased by 3.5 per cent in August
2015, but were 5.1 per cent below the monthly peak that occurred back in April
2014.
For multi-units it's May 2015 that is shaping up to
represent a peak in monthly sales, with declines occurring in each of the
subsequent months. Multi-unit sales in August this year were down from the May
level by 8.5 per cent.
In the month of August detached house sales increased in
four out of the five mainland states.
Detached house sales increased by 10.2 per cent in South
Australia, 7.0 per cent in Queensland, 3.2 per cent in New South Wales and 3.4
per cent in Victoria. In Western Australia, detached house sales declined by
1.4 per cent.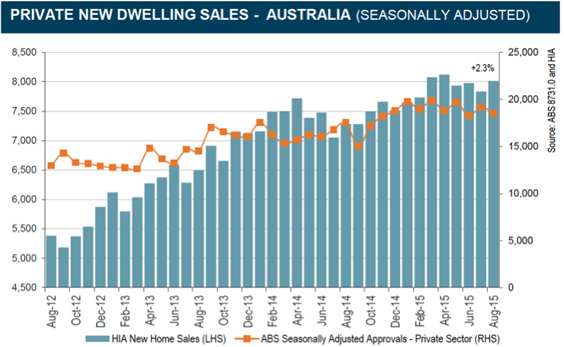 Was this article helpful? Place a link to it from your website, or share it using the button below.

Recent articles:
Detached house new home sales remain high

Capital city auction report describes national softening

Slight shift to favour sellers in property market

Population growth figures not looking too good

Capital city average home price exceeds $600,000

New Minister for Cities welcomed

Leave a comment
Comments
Article source: http://feedproxy.google.com/~r/API_Property_News/~3/ShX-J1mE_7g/detached-house-new-home-sales-remain-high