Renters could feel APRA backlash
Posted on Wednesday, August 05 2015 at 10:53 AM
While it had been fully expected that the Reserve Bank of Australia (RBA) would keep the cash rate on hold at yesterday's board meeting, all eyes are on investment lending as new research by comparison website finder.com.au shows rents are expected to rise by 2.8 per cent.
The finder.com.au
monthly Reserve Bank Survey found all 31 leading
economists and experts unanimously predicted the cash rate would hold at 2.00
per cent, with many saying they felt the last two cash rate cuts in February
and May need more time to filter through the economy.
The survey also found that almost one in
five of the experts are forecasting another cash rate cut this year. Despite
this, the majority surveyed are expecting property prices will keep rising this
year.
Michelle Hutchison, money expert at finder.com.au, says
renters won't be immune to higher housing costs.
"For the
majority of households who don't have a mortgage (about five million households
or about two in three – two million of which are renters), it's not looking
good for many of them either as new research by finder.com.au suggests monthly
rents could be set to increase by nearly 3 per cent nationally as Australian
banks increase rates on some of their investment loans.
"The big four
banks announced increases to some of their investment home loans following new
APRA guidelines.
"ANZ, Commonwealth
Bank and Westpac all announced 0.27 percentage point increases to their
investment standard variable rates while NAB is increasing its investment line
of credit and interest-only loans.
"With the big
four banks holding the majority of the market, national monthly rents could be
set to increase by 2.80 per cent or $59 in higher rent per month if landlords
pass on the full cost of the new interest rates on investor loans (based on the
average home loan of $343,000 over 30 years),"
she says.
"For low income
households with one person on the minimum wage, this increase could account for
2 per cent of annual income (based on the national minimum annual salary of
$34,158.80/$656.90 per week)."
Melbourne renters are
expected to be hit the hardest, Hutchison adds, with a 3.19 per cent increase
($62 per month), followed by Adelaide with a 2.98 per cent increase ($48 per
month). Sydney will see the biggest jump in cost of $71 per month.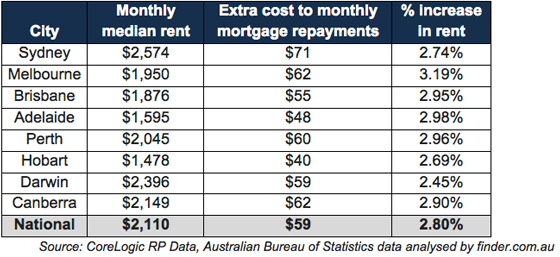 "Whether you're a mortgage holder, renter or prospective first
homebuyer, watch out for higher costs on the way and make sure you're prepared
by keeping some savings aside before it's too late," Hutchison says.
Article source: http://feedproxy.google.com/~r/API_Property_News/~3/AEdurVzx2as/renters-could-feel-apra-backlash