Loans to investors still high – but investors should take care
Posted on Friday, July 31 2015 at 4:13 PM
Property investors are being warned to watch their home loan interest rates, while new investors will face a tougher time securing an investment loan, following new research into home loan market lending growth by comparison website finder.com.au.
The finder.com.au analysis of data from the
Australian Prudential Regulation Authority (APRA) shows that 16 banks have
grown their investment home loan lending by more than 10 per cent in the past
year to June 2015, including three of the four major banks: ANZ, Commonwealth
Bank and NAB.
Banks have collectively grown their
investment lending by 16.5 per cent in June 2015 compared to June 2014. Total
investment loans by the 73 banks monitored by APRA has grown from $435.7 billion
in June 2014 to $507.4 billion in June 2015.
Investment lending in the past year has grown more than
three times that of their owner-occupied lending. These banks have collectively
grown their owner-occupied books by just 4.5 per cent (compared to 16.5 per
cent for investment loans), from $829.9 billion in June 2014 to $866.8 billion
in June 2015.
Money expert at finder.com.au Michelle
Hutchison says APRA's move to curb investment lending has done little to ease
growth.
"While APRA has
implemented measures to curb investment lending growth, many banks have clearly
not responded as their lending has continued to rise.
"In fact, 16
banks have increased their investment lending by more than APRA's recommended
10 per cent growth rate in the past year, including some of our biggest banks."
The biggest
increase in investment lending growth was by Macquarie Bank by 81.6 per cent to
$9.0 billion, largely due to acquiring loans books from other institutions.
The third-largest
investment home loan lender in Australia – ANZ – saw the second-biggest spike
in investment home loan growth, of 51.4 per cent year-on-year to $83.5 billion.
In contrast, the biggest investment lender in Australia –
Westpac – grew its investment lending by just 9.9 per cent in the past year to
June 2015, to $152.5 billion.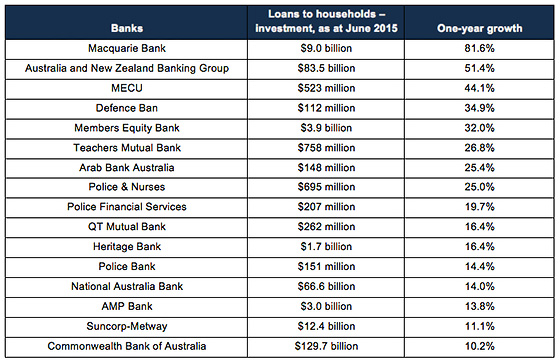 Growth over the past two years to
June 2015 saw investment lending by these banks increase by 28.6 per cent.
Compared to owner-occupied lending, it grew by 12.2 per cent.
Taiwan Business Bank saw the
biggest growth in
investment lending of 300 per cent over the past two years, while Macquarie
Bank also had the biggest growth for owner-occupied home loans since June 2013
of 155.7 per cent.
"Borrowers need to be mindful that
some lenders may pull back on investment lending harder than others, by
following the lead of AMP earlier this week and ceasing offering investment
loans, or increasing rates or tightening down on lending criteria," Hutchison
says.
"In this turbulent market, it's
vital to do your research and compare providers and their offerings, weigh up
the pros and cons, and ensure you're getting the best possible deal for your
personal situation."
Article source: http://feedproxy.google.com/~r/API_Property_News/~3/_t_HshAUaxM/loans-to-investors-still-high-but-investors-should-take-care