Second consecutive rise for home sales
Posted on Friday, January 23 2015 at 10:48 AM
The latest result for the HIA New Home Sales Report, a survey of Australia's largest volume builders, highlights a second consecutive rise for sales in the month of November 2014.
"Renewed
upward momentum in the multi-unit segment drove growth in overall new home
sales in late 2014, a trend unlikely to be reversed when the December result
comes through," HIA chief economist Harley Dale explains.
"Total
seasonally adjusted new home sales increased by 2.2 per cent in November last
year following a lift of three per cent the previous month," Dale notes.
"Sales
of multi-units surged in both October and November to reach their highest level
since September 2003. Detached house sales dipped by 1.5 per cent in November 2014
and are not displaying the upward punch of their multi-unit counterpart."
Dale
continues: "Upward momentum was evident in both detached house and 'multi-unit'
construction in 2013/14. However, more recently momentum has been concentrated
in multi-units in a situation akin to stage one of the current up-cycle back in
2012/13.
"The
key leading indicator measures of building approvals and new home sales suggest
this re-concentration of growth in the 'multi-unit' segment will persist into
2015."
"A
focus on housing policy reform would greatly assist in rebalancing the table,
providing a further burst of growth in detached house construction which would
at the same time provide productivity gains for the broader Australian economy.
That should be a policy no-brainer," Dale says.
In the month of November 2014, detached house
sales increased by four per cent in Victoria, 16 per cent in Queensland, and
0.3 per cent in South Australia. Detached house sales fell in November in New
South Wales (-5.6 per cent) and Western Australia (-10.6 per cent, following a
+24.8 per cent result in October).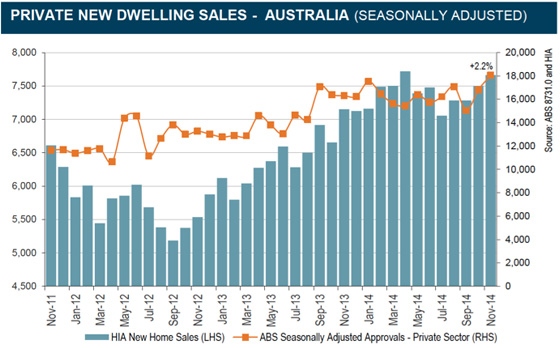 Was this article helpful? Place a link to it from your website, or share it using the button below.

Recent articles:
Second consecutive rise for home sales

School catchment premiums quantified

Assessment system ripe for change

Lack of discipline hitting property dreams

WA has most loss-making resales

Aussies now face $1m price tag for homes

Leave a comment
Comments
Article source: http://feedproxy.google.com/~r/API_Property_News/~3/3ZsqkaE01ws/second-consecutive-rise-for-home-sales