Rental market continues to slow
Posted on Wednesday, August 20 2014 at 4:08 PM
Data released by a leading analyst confirms an overall slowing in the national rental market.
A
report by SQM Research says their latest analysis of rental vacancies and
asking prices shows the number of residential vacancies nationally decreased
slightly during July, recording a stable vacancy rate of 2.3 per cent
nationally.
"Higher
vacancies of course, allude to an increase of supply in the rental market,
shifting the balance of power from landlords to tenants," the report says.
On
a city-by-city basis, the results were mixed with Perth and Darwin's vacancies increasing
since July 2013, and Hobart's dropping dramatically over the same period.
Sydney
and Melbourne have remained flat while Brisbane has seen a rise over the 23-month
period.
SQM
Research's Asking
Rents Index revealed rental asking prices have only lifted by 0.7
per cent for houses and 0.6 per cent for units nationally since the same week
in 2013.
"This
reveals that the expectation of landlords has stagnated on a national level,
with Darwin and Sydney being the only two capital cities to record substantial
increases in asking rents since this time last year, and Perth and Canberra
both recording considerable decreases during the same period," the report says.
Louis
Christopher, managing director of SQM Research says they expect the market to
continue to weaken.
"The
rental market overall remains sluggish with asking rents showing rises of just
1.2 per cent to 1.7 per cent at the average capital city level."
Christopher
says Perth's rents have dragged down the overall result.
"It's
quite clear rents in Western Australia are falling quickly.
"Given
our view that vacancy rates are likely to rise from these levels, we are
expecting a soft rental market for quite some time and certainly, well into
2015."
The
full results as published on www.sqmresearch.com.au are: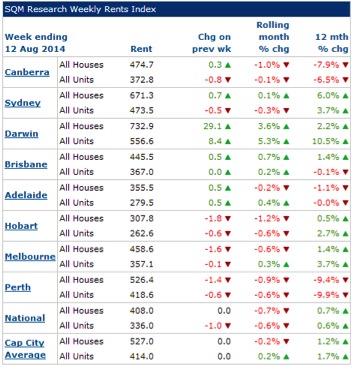 Was this article helpful? Place a link to it from your website, or share it using the button below.

Recent articles:
Rental market continues to slow

TOP AFFORDABLE INNER CITY SUBURBS

Borrowers shun fixed loans

Renovation revolution

Interstate migration slows

Brisbane winter breaks 23-year growth drought

Leave a comment
Comments
Article source: http://feedproxy.google.com/~r/API_Property_News/~3/SW00-Z8U_Ec/rental-market-continues-to-slow