NSW first homebuyers head west
Posted on Wednesday, July 23 2014 at 1:50 PM
Analysis by the New South Wales Government shows the majority of first homeowner activity is in the
NSW first
homebuyers head west
Analysis by the New South
Wales Government shows the majority of first homeowner activity is in the State's
western growth corridor.
The government ranked the state's
suburbs by the dollar-value take-up of First Home Owner Grants and stamp duty
concessions for the 2013/2014 financial year.
The data reveals 16 out of the top 20 suburbs
utilising benefits are west of Sydney.
Spring Farm tops the list with over $7
million of benefits claimed.
West Hoxton and Werrington, at $6.78 million
and $6.46 million respectively, fill out the podium positions.
Parramatta came sixth in the rankings, while
the suburbs of Plumpton and Hornsby made it into the top 20 for the first time.
Andrew Constance, NSW's State Treasurer, says
they're pleased with the take up of grants and growth in new home construction
throughout this corridor.
"We've got new home starts at 10-year highs,
and a growing number of first-time buyers taking advantage of those new builds
in our vibrant west."
Constance says the government has eased
criteria to stimulate new home construction and first buyer activity.
"We've also increased the threshold for the
First Home Owners Grant by $100,000, meaning families can buy new homes valued
up to $750,000 and still remain eligible."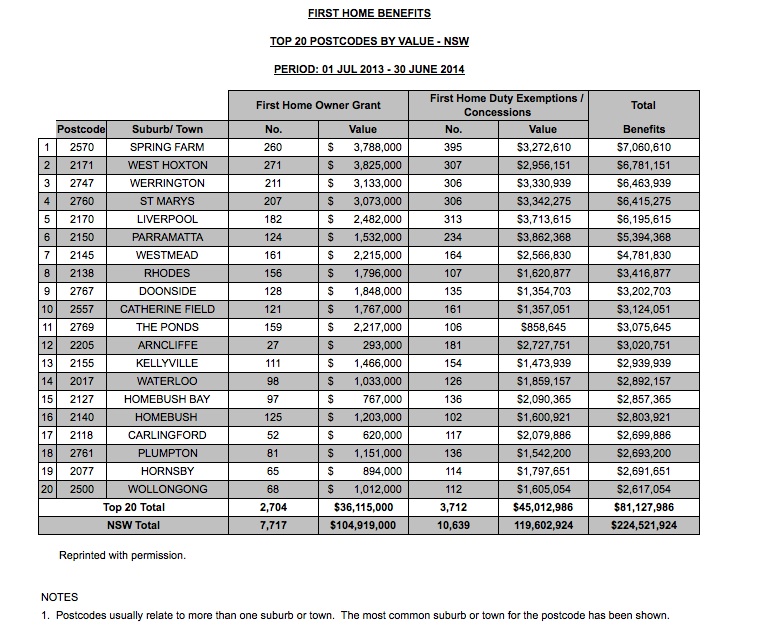 Was this article helpful? Place a link to it from your website, or share it using the button below.

Recent articles:
NSW first homebuyers head west

Housing construction to peak in 2014

Vacancy rates on the rise

Debt reduction before fun when it comes to tax returns

SA property market upswing

Property promoters put on notice

Leave a comment
Comments
Article source: http://feedproxy.google.com/~r/API_Property_News/~3/sc91gm8KSXg/analysis-by-the-new-south-wales-government-shows-the-majority-of-first-homeowner-activity-is-in-the