Average Aussie house size continues to shrink
Posted on Tuesday, November 12 2013 at 11:53 AM
While new homes in Australia remain among the biggest in the world, the average floor size of dwellings built has fallen to an 11-year low.
Analysis by CommSec has found that the
McMansion trend – a massive, oversized house with more space than is reasonably
needed – looks to be coming to an end.
The shift from building bigger homes is a
profound one, CommSec says, and illustrates how Australia's demographics and
lifestyle drivers continue to change.
"In part, generation Y are driving the
trend, but baby boomers are also in the process of downsizing, perhaps selling
their four to five-bedroom homes in preference for retirement homes or city
pads," the CommSec analysis report says.
New houses built in 2012-13 had an average
floor area of 241 square metres, which represented a reduction of 1.6 per cent
on the previous year.
In contrast, the average floor area of new
apartments rose by 1.3 per cent to 133 square metres over the same period.
But overall, the average size of all newly
constructed dwellings fell 1.9 per cent in the past financial year, the fourth
consecutive year of space consolidation and the smallest home size recorded in
11 years.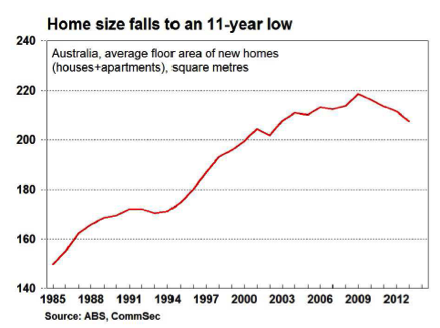 CommSec chief economist Craig James says
the move towards smaller homes is thanks to a focus on "experiences" rather
than an aspiration for a "bigger castle".
Travel, attending sporting events and
eating out at restaurants and cafés are more desirable to the average
Australian than a sprawling home, he believes.
"Aussies are building smaller homes and
utilising the homes more efficiently. That is, more people are occupying houses
and apartments. The new trends mean less demand for building materials while
fewer homes need to be built to accommodate the expanding population."
Was this article helpful? Place a link to it from your website, or share it using the button below.

Recent articles:
Average Aussie house size continues to shrink

Cash splash for first-time new homebuyers in Tasmania

Push for Galilee Basin development

ASIC warns agents on giving SMSF advice

Melbourne Cup day rate hold was always a safe bet

Sydney leads the property value charge

Leave a comment
Comments
Article source: http://feedproxy.google.com/~r/API_Property_News/~3/_hgEdyMRsKc/average-aussie-house-size-continues-to-shrink