More signs of a housing market recovery
Posted on Friday, February 01 2013 at 3:04 PM
Did you invest in property last year? You might've jumped in at just the right time, with new data released today showing home prices across Australia rose by 1.8 per cent across 2012.
In further signs
of a looming recovery, capital city dwelling values rose by 1.2 per cent in
January, largely thanks to gains in the Sydney, Perth and Brisbane markets.
RP Data reports that
every capital city recorded an increase in dwelling values over the past 12
months, with the exception of Melbourne, which was down 0.4 per cent.
The firm's research
director Tim Lawless says the housing market has started the year on a strong
foot.
"These strong
January results are likely to have seen some upwards seasonal bias, however the
housing market has been on a clear recovery trend since June last year,"
Lawless says.
"The latest
housing market data adds weight to the argument that interest rates may be at
the bottom of the cycle. The Reserve Bank will be watching the performance of
the housing market closely and the positive trend in housing values will dampen
calls for further interest rate cuts."
Additional data
is also pointing towards an improvement in the Australia housing market. The
average number of days it takes to sell a property was steadily decreasing
prior to the seasonal slowdown in December and January and the rate of vendor
discounting was also on a clear trend of improvement.
"The typical
capital city house took 50 days to sell in December last year, a vast
improvement from the recent high of 76 days recorded in February last year."
Additionally,
vendors are now discounting their initial asking prices by an average of 6.6
per cent compared with 7.3 per cent a year ago.
"With stock
levels (still) high, it's likely to remain a buyers' market for some time,
however I think we're now seeing some balance return to the negotiation table. Buyers
are losing some of their negotiation power and homes are selling faster."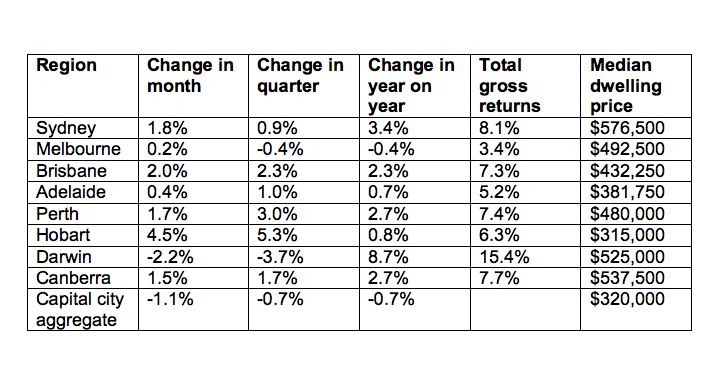 Was this article helpful? Place a link to it from your website, or share it using the button below.

Recent articles:
More signs of a housing market recovery

Strong 2012 finish for construction sector

House prices on the rise

Nature's fury slows market recovery

Coober Pedy strikes black gold

Door open for February interest rate cut

Leave a comment
Comments
Article source: http://feedproxy.google.com/~r/API_Property_News/~3/e2bOanTjf3I/more-signs-of-a-housing-market-recovery