Property industry is cautiously optimistic about the future
Posted on Thursday, October 18 2012 at 11:34 AM
Property professionals believe the mining boom is far from over, capital city home values are on the up and the commercial market is set for a big year.
The latest Property Council of Australia-ANZ Property
Industry Confidence Survey shows views are mixed across the country,
with confidence in resource-rich states slipping in the past three months.
A softer outlook in mining-dominated
regions is responsible for a "closing gap" between resource states and the rest
of the country.
More than 3500 property and construction
professionals from all states and territories were polled on their
forward-looking views.
General sentiment in the December 2012
quarter was 102 on the index, down from 106 in September.
The overall ranking was dragged down by
weaker sentiment in resource-rich jurisdictions like Queensland, Western
Australia, the Northern Territory and South Australia, the report concludes.
Despite the weaker outlook, Property
Council chief executive Peter Verwer says there was a recovery in sentiment
elsewhere.
"Respondents in (NSW and Victoria) have
more faith in their local economy than the national economy, and expectations
for forward work have improved," Verwer says.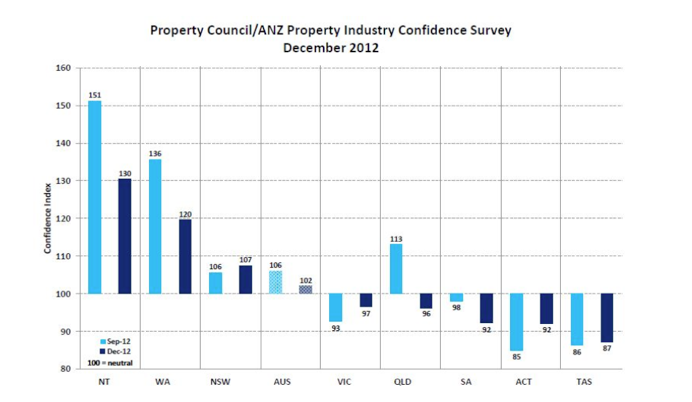 Source: Property
Council of Australia-ANZ Property Industry Confidence Survey
The poll found 68 per cent of property
professionals don't believe the mining boom is over. Only 27 per cent believe
their business is reliant on the mining sector.
Sentiment for residential capital values
shifted from negative to positive, from 93 on the index to 101. It's the first
positive result in the history of the survey. Housing construction expectations
also rose.
ANZ chief economist Warren Hogan says while
house prices remain soft in most capitals, there are tentative signs we've
reached "a floor" following recent interest rate cuts.
"May and June (Reserve Bank of Australia)
rate cuts are expected to be further supported by the October rate cut," Hogan
says. "Residential auction activity has increased and auction clearance rates
are at the highest level since 2010."
Property professionals believe the office
market has the strongest investment potential over the next 12 months, followed
by residential, industrial and retirement living.
Most also have a rosy view of the domestic
economy, with only 13 per cent of respondents believing growth will weaken over
the next year. That's a slight increase of nine per cent in the previous
quarter.
Article source: http://feedproxy.google.com/~r/API_Property_News/~3/nAP3dwWSxm8/property-industry-is-cautiously-optimistic-about-the-future