Looking for the next price growth hotspots? Follow the big bucks, expert says
Posted on Thursday, October 04 2012 at 11:25 AM
Suburbs where incomes are growing the fastest could also be tomorrow's property price hotspots, one analyst believes.
SQM Research's annual Housing Boom and Bust Report
includes a list of 20 locations where incomes have increased the quickest over
the past two decades.
Louise Christopher, founder of SQM Research
and author of the report, believes the analysis could provide insight into
future home value movements.
Postcodes in inner Sydney, Perth and
Brisbane dominate the list. Christopher says it's most likely because
high-income earners generally reside in inner-ring reas, plus the resources
boom is driving prosperity in Western Australia.
Income growth is usually a main contributor
to the performance of property prices, he says.
In Sydney, many young professionals are
flocking to inner city suburbs like Waterloo and Redfern. There's upward
pressure on house prices and demand as a result.
Waterloo tops the list of fastest income growth
areas, with a 9.1 per cent compound average annual increase, while Redfern came
in third at 8.6 per cent.
A couple of areas in Brisbane also feature,
with suburbs such as New Farm (sixth with a 7.7 per cent compound average
annual increase in income) attracting younger, more affluent professionals who
demand inner city dwellings.
"Recent developments in the suburbs
surrounding and making up Brisbane's CBD have encouraged well-paid individuals
to reside in these localities, pushing industrial-based activities to other
parts of (Brisbane) and driving up income growth in the area."
Perth
postcodes made a "significant contribution" to the list, he says. The resources
boom influenced this trend and these suburbs could be susceptible to any type
of "sustained downturn" in mining.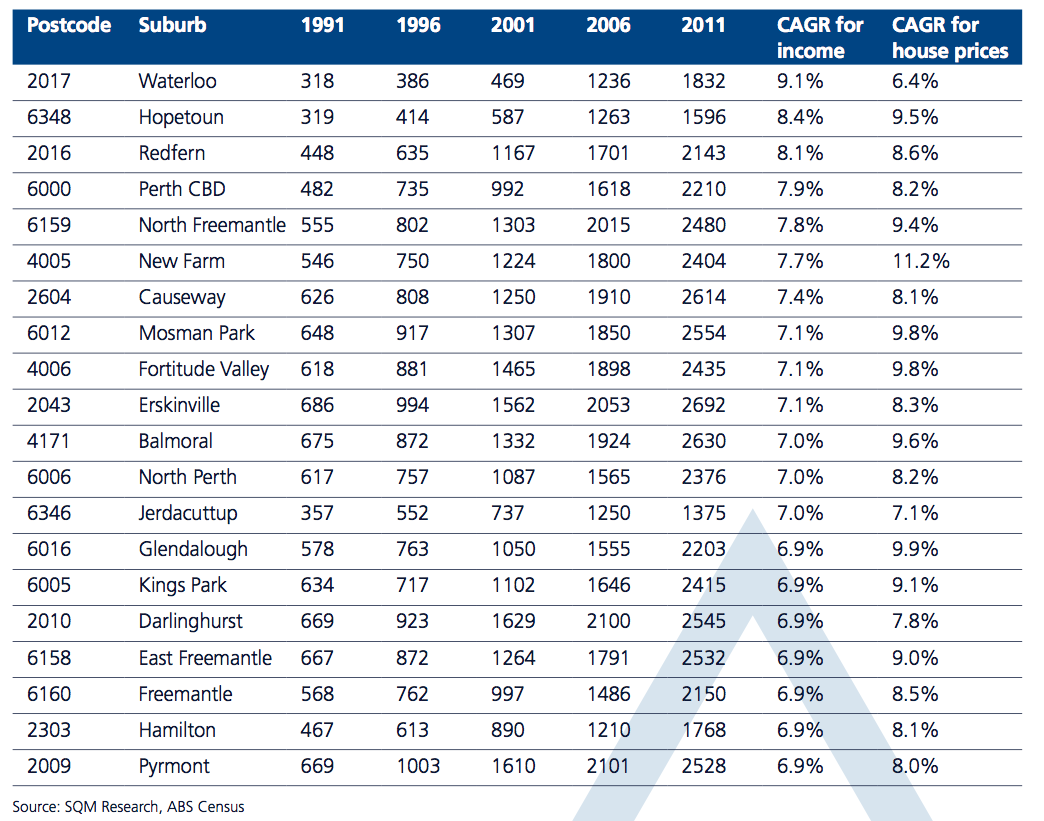 Was this article helpful? Place a link to it from your website, or share it using the button below.

Recent articles:
Darwin becomes Myer's next target

New strategy unveils faster commute from Sydney's west

Looking for the next price growth hotspots? Follow the big bucks, expert says

Capital city home values continue to rise, signalling a market recovery

RBA cuts interest rates

Mackay's property sector an economic driver

Leave a comment
Comments
Article source: http://feedproxy.google.com/~r/API_Property_News/~3/o3Spv0ApdsY/looking-for-the-next-price-growth-hotspots-follow-the-big-bucks-expert-says