Singles make their mark in Melbourne's bayside
Posted on Friday, August 24 2012 at 9:06 AM
Inner Melbourne's bayside is the hotspot for a single person, according to the Real Estate Institute of Victoria's (REIV) analysis of the 2011 Australian Bureau of Statistics Census.
Bayside suburbs of St Kilda, St
Kilda West, Carlton, Elwood and South Yarra have the highest proportion of
single person households in Melbourne, along with Carlton in Melbourne's inner
north, reports REIV policy and public affairs manager Robert Larocca.
These trends play an enormous
role in determining development and demand for housing, says Larocca.
"In St Kilda, St Kilda West,
Carlton, Elwood and South Yarra, at least one in three homes have only one
resident. New developments clearly respond to this demographic trend by building
residences more suited to single people."
The data also demonstrates that
the further the suburb is from the CBD, the less likely it is that only one
person will be residing in the home, says Larocca.
"There is one interesting
exception – the Belgrave/Lilydale train line, where most suburbs have a higher
than average proportion of lone-resident households.
"At the other end of the
spectrum are the growth suburbs: Point Cook, Greenvale, Roxburgh Park, Doreen,
Narre Warren South and Narre Warren North, for instance. In those suburbs less
than 10 per cent of homes only have one resident."
Growing families are the driving
force behind these growth areas, says Larocca.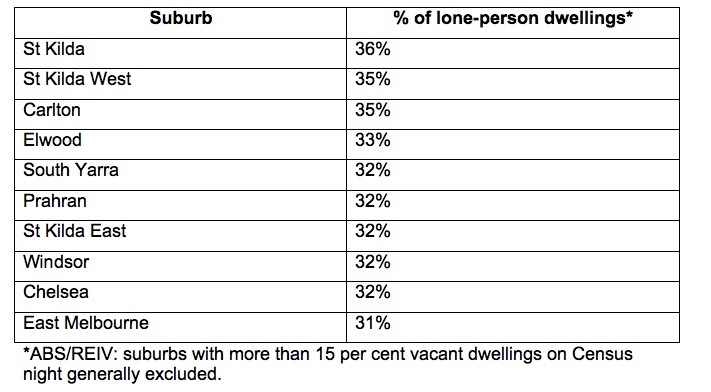 Article source: http://feedproxy.google.com/~r/API_Property_News/~3/bgsDjPaQpk8/inner-melbournes-bayside-is-the-hotspot-for-a-single-person-according-to-the-real-estate-institute