Capital city home values increase for the second consecutive month
Posted on Wednesday, August 01 2012 at 2:24 PM
Investors who spent the earlier part of the year buying up big could have gotten in at the perfect time, while those still sitting on the fence could be running out of time.
According to the
latest figures from RP Data, property prices are finally starting to rise as
investors respond to lower interest rates on mortgages.
Although prices
haven't risen by huge amounts, the latest figures indicate the market is bottoming
out.
RP Data reports
dwelling values across capital cities recorded a second month of gains in July,
with values up by 0.6 per cent over the month following a one per cent rise in
June.
Research director
Tim Lawless says the July results were heavily influenced by improving values
across the most expensive capital city markets.
"The July rise
wasn't as broad-based as the June results, with the month-on-month increase
primarily being associated with the Sydney and Melbourne markets where dwelling
values rose 1.2 per cent and 1.4 per cent respectively," he says.
"The July result,
when viewed together with the positive June result, suggests housing markets
may be starting to respond to lower mortgage rates."
Rismark chief
executive officer Ben Skilbeck adds rental rates are also continuing to rise.
Across the capital cities, weekly rents have risen by 3.3 per cent over the
first seven months of the year.
The largest rents
over the year to date have been in Perth, up a massive 13.7 per cent, and
Darwin, up 5.4 per cent.
Lawless adds
other indicators show some further signs of improving conditions in the market.
"Auction
clearance rates were recorded at 56.8 per cent over the last week of July, the
highest clearance rate since February last year. We're also seeing average
selling time and vendor discounting both at healthier levels than what was
recorded a year ago and effective supply levels have also seen some improvement
from their highs of late last year."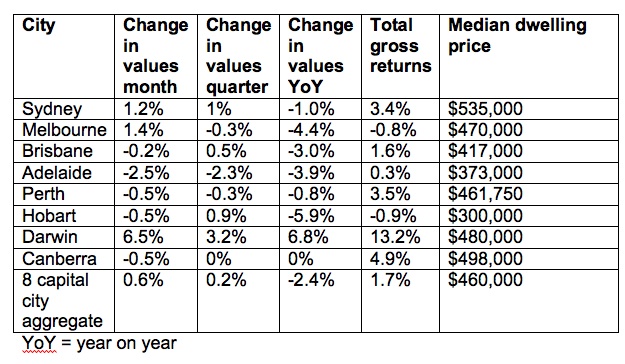 Was this article helpful? Place a link to it from your website, or share it using the button below.
Recent articles:
Capital city home values increase for the second consecutive month

Flood-proof plan for Queensland

Mining boom far from over

Brisbane most affordable mainland capital

Small office space in big demand in Adelaide

Gold Coast land sales rise in June quarter

Leave a comment
Comments
Article source: http://feedproxy.google.com/~r/API_Property_News/~3/OiwzXdwjTmU/capital-city-home-values-increase-for-the-second-consecutive-month