The latest figures released by the Australian Bureau of Statistics on housing finance highlight a sharper than expected fall in July 2016, though the Housing Industry Association (HIA) says it's not as bad as it looks.
"In contrast to the GDP result earlier in the week where the focus quickly turned to the dim spots below a glowing surface, let's consider the bright spots underneath a below-expectations result for housing finance," HIA chief economist Harley Dale says.
While the number of loans for owner-occupiers fell across the board in July 2016, the lending profile over the three months to July "signals no cause for alarm" he adds.
Lending for the purchase of new dwellings increased over the 'quarter' (+2.2 per cent), while the number of loans to owner-occupiers for new dwelling construction eased very moderately (-1.0 per cent).
The number of loans for established dwellings (net of refinancing) fell by 2.0 per cent over the July quarter.
"This is hardly 'shock, horror' stuff, but these latest finance figures do reinforce that the overall market has peaked," Dale says.
"On the investment front it's not surprising that the value of lending for investment in existing property continues to decline – down 19 per cent from its peak. Lending for new property is up 22 per cent," he notes.
"It is rather ironic that without the policy uncertainty generated by proposed changes to superannuation and persistent headlines regarding negative gearing amendments, lending for existing investment properties would be lower and the counterpart new home building component would be even healthier. That's exactly what policy makers are after, yet their own actions are delaying that outcome and hampering housing affordability."
According to Mortgage Choice's latest national home loan approval data, fixed-rate home loans accounted for 20.32 per cent of all loans written throughout the month of August, which is up slightly from 20.24 per cent the month before.
"Today's slight lift in fixed-rate demand is largely unsurprising," CEO John Flavell says.
"In August, the Reserve Bank of Australia [RBA] cut the cash rate… but while the official cash rate was cut by 25 basis points, Australia's lenders failed to pass on the rate cut in full, with some cutting their residential home loan rates by just 12 basis points.
"Given the RBA held the cash rate at 1.5 per cent in September, we might start to see more interest in fixed-rate home loans as people start to question if now is a good time to lock in a rate.
"If the Reserve Bank does cut the cash rate again, it's clear that Australia's lenders are unlikely to pass on the full rate reduction."
Across the country, fixed-rate demand was highest in Western Australia, with this type of product accounting for 25.78 per cent of all home loans written throughout the month of August.
Queensland and New South Wales were not far behind, with fixed rates accounting for 24.72 per cent and 22.91 per cent respectively of all loans written.
Demand for fixed-rate home loans was lowest in Victoria, where it accounted for just 9.06 per cent of all loans written.
Overall, variable rates were the most popular product among borrowers, with ongoing discount rates accounting for 45.14 per cent of all loans written.
Lending for construction and purchase of new dwellings – Australia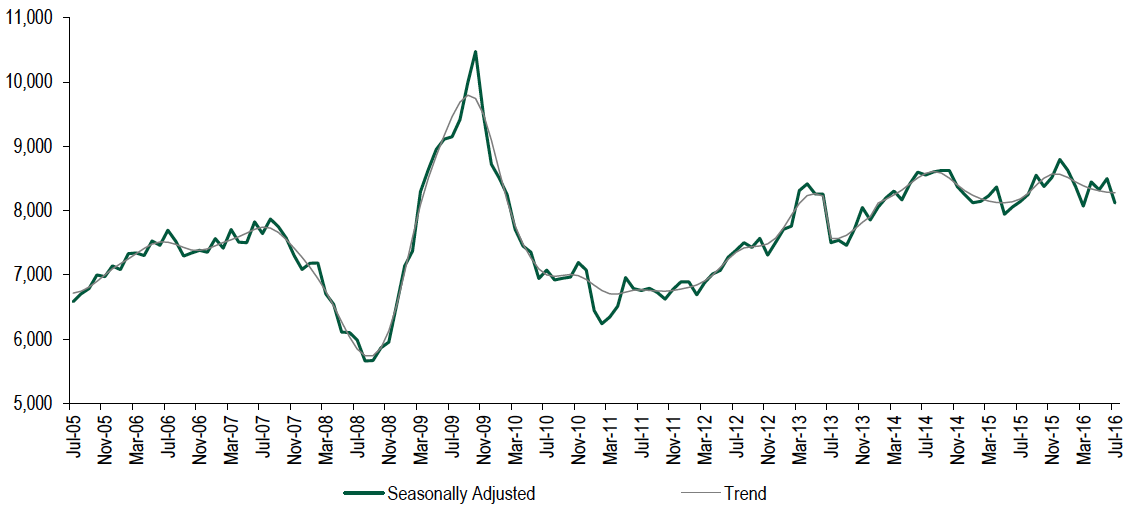 Article source: http://feedproxy.google.com/~r/API_Property_News/~3/Vpt797GN2W0/