Study shows property prices unaffected by flight path
Posted on Monday, November 23 2015 at 12:15 PM
Aircraft noise has had minimal if any impact on property prices in suburbs near or under the flight paths to Brisbane Airport, a Queensland University of Technology (QUT) analysis of 26 years of property sales, rental and investment performance has found.
In fact, the study, commissioned by Brisbane Airport
Corporation, found property prices in some high-value suburbs with high noise
complaints increased at a greater rate than other similar suburbs unaffected by
aircraft noise.
Property economist
Professor Chris Eves and Andrea Blake from QUT's School of Civil Engineering
and Built Environment and the QUT Air Transport Innovation Centre analysed
price, saleability, investment performance and capital growth from 1988 to 2014
of residential properties in 40 Brisbane suburbs either near the airport or
under a flight path.
"It is the most detailed and comprehensive analysis of
the impact of aircraft noise ever undertaken in Australia," Eves says.
"In total we looked at more than 180,000 sales
transactions in 40 suburbs ranging from those whose residents recorded the
highest number of noise complaints to those which reported minimal or no
aircraft noise.
"Our findings suggest that factors such as proximity
to transport, the Brisbane CBD, schools, recreation facilities, the airport and
other services, far outweigh any negative impact experienced as a consequence
of being under a flight path or from aircraft noise."
Eves explains the suburbs were classified by the
number of aircraft noise complaints recorded by Air Services Australia over the
past five years. These suburbs were classified as having high, moderate or
minimal/no noise complaints.
"Our analysis shows very little difference in growth
of house prices across high-value suburbs regardless of where they were
situated or their exposure to aircraft noise.
"For example, Bulimba, which is under an existing
flight path and records moderate noise complaints, has capital returns slightly
higher than New Farm, which isn't subject to any noise complaints.
"The capital returns for Ascot and Balmoral, which are
currently not under a flight path, are less than the capital returns for
Bulimba."
Eves says units and townhouses under Brisbane flight
paths also showed no impact on investment performance from aircraft noise.
"Rental properties under the existing main southern
flight path, which attracts the highest level of noise complaints, have a
rental market increasing at the same percentage as properties not located under
an existing flight path," he says.
"In fact, over the 26 years, units and townhouses in
the high noise complaint suburbs showed an average annual capital return of
7.66 per cent, which is higher than the capital returns in the moderate noise
complaint suburbs of 7.40 per cent, but slightly lower than capital return for
no noise complaint suburbs.
"In higher value, middle socioeconomic suburbs, two of
the highest average annual capital returns for the 26-year period for houses
were achieved by Camp Hill (9.52 per cent) and Cannon Hill (9.72 per cent).
"Each of these suburbs is under the main southern
flight path and subject to high noise complaints. In contrast, Bardon, with
minimal/no noise complaints, achieved 9.02 per cent."
Eves says Hendra, another higher value middle
socioeconomic suburb, adjoining the airport, had recorded moderate noise
complaints but outdid them all and achieved an average annual capital return of
10.9 per cent.
"Hendra is not currently under a flight path but will
be when the New Parallel Runway opens in 2020," he says.
"Even when we looked at the only two lower-value,
middle socioeconomic suburbs in the study, we found similar effects.
"Mount Gravatt East, which records moderate noise
complaints under the existing flight path, had, at 7.93 per cent, a higher
average annual capital return than the Brisbane median of 7.72 per cent.
"In contrast, Chermside West, which has minimal/no
noise complaints under the existing flight path, had below the median growth of
6.46 per cent.
"Overall the study found that the value and price of
housing and units in Brisbane located under flight paths are determined by a
range of factors other than aircraft noise."
Eves says that when the new proposed flight paths open
in 2020 there would be many suburbs that had less noise because aircraft
movements would be shared.
Brisbane Airport Corporation (BAC) corporate relations
head Rachel Crowley says the potential negative impact on property values was a
cause of concern for people living near an airport or under a flight path.
"We're pleased that this study may provide some
comfort to people who may be anxious about whether or not their property value
is constrained by their location under a flight path," she says.
"We also hope this study may convince property
developers, vendors and real estate agents that being open and transparent
about the presence of a flight path should not negatively impact sale price.
"Airports are essential national infrastructure and
the importance of their ability to operate unencumbered cannot be over-stated.
 
"Queensland is in the fortunate position of having its
major gateway airport both well-located and well-protected by a
significant buffer of industrial land, which protects residents from the worst
aircraft noise experienced in cities that have residential development far
closer to the airport."
Suburbs
in the study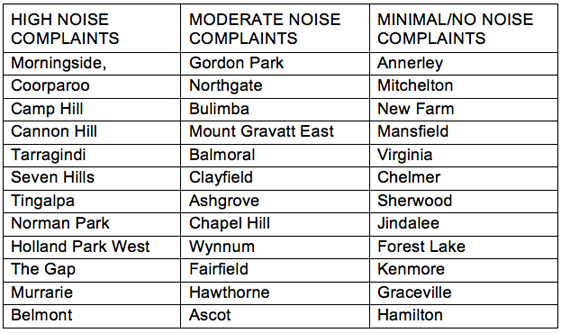 Article source: http://feedproxy.google.com/~r/API_Property_News/~3/65JW69Up5l8/study-shows-property-prices-unaffected-by-flight-path