A new online toolkit developed by the Australian Securities and Investments Commission's MoneySmart will enable Australians to better understand and navigate the financial advice process.
ASIC's MoneySmart Financial Advice Toolkit is a free educational tool that breaks down the complexity within the financial advice process. It will assist consumers with their research and help them evaluate the financial advice they receive.
The toolkit provides an overview of the financial advice process and gives impartial guidance on:
Identifying financial goals and advice needs
Tips on choosing an adviser
Preparing to meet a financial adviser
Understanding your Statement of Advice
Reviewing your financial situation.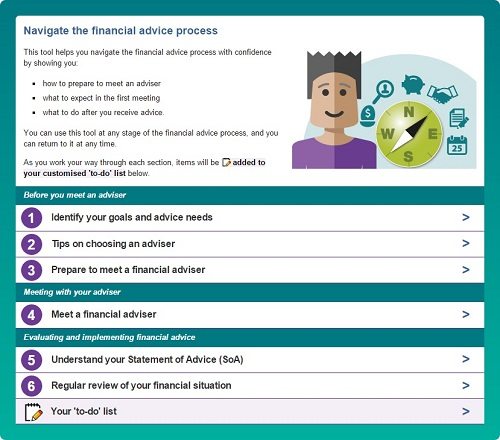 Consumers can use the toolkit to create a customised "to do" list, which they can modify to suit their personal financial needs.
It also includes links to ASIC's Financial Advisers Register, where consumers can check an adviser's credentials – their licence, authorisations, experience and qualifications, and whether they have ever been banned or disqualified from providing financial services.
"Australians face major financial decisions throughout their lifetime, many of which can be complex and confusing," ASIC deputy chairman Peter Kell says. "Yet only about one in five Australians obtain financial advice. ASIC recognises the value that quality advice can deliver and wants to see this increase.
"ASIC's new toolkit is a practical resource to help Australians assess the quality of the advice they receive and make better financial decisions."
The new digital tool complements and supports ASIC's regulatory and enforcement work in the financial advice sector and is designed to improve demand-side capability at critical financial moments.
The toolkit is available on ASIC's MoneySmart website.
Article source: http://feedproxy.google.com/~r/API_Property_News/~3/sjZ1GunU5Ek/