The monthly survey by the Housing Industry Association (HIA) of Australia's largest home builders indicates that new home sales dropped to a two-year low during the month of October.
"HIA new home sales fell by some 8.5 per cent during October 2016, the lowest volume of sales since July 2014," HIA senior economist Shane Garrett reveals.
"Sales on both sides of the market saw sizeable reductions. Detached house sales were down by 8.2 per cent during the month, while multi-unit sales fell by 9.2 per cent."
The reduction in the volume of new home sales isn't unexpected, given that Australia is coming to the end of its longest and strongest new home building upturn, Garrett points out.
"October's new home sales results are consistent with HIA's latest forecasts for new home building starts which foresee a reasonably marked reduction in activity over the next couple of years," he explains.
"Even so, activity is projected to fall to a low point of around 172,000 new dwellings starts during 2018/19, about the same as the average of the past decade."
During October 2016, detached house sales fell in three of the five mainland states covered by the report.
The largest reduction in sales volumes during the month was in Victoria (-20.4 per cent), with new detached house sales also falling in Western Australia (-5.6 per cent) and New South Wales (-2.8 per cent).
New detached house sales rose by 4.5 per cent in Queensland during October, with a slight increase of 0.8 per cent in South Australia.
Private new dwelling sales (Australia) – seasonally adjusted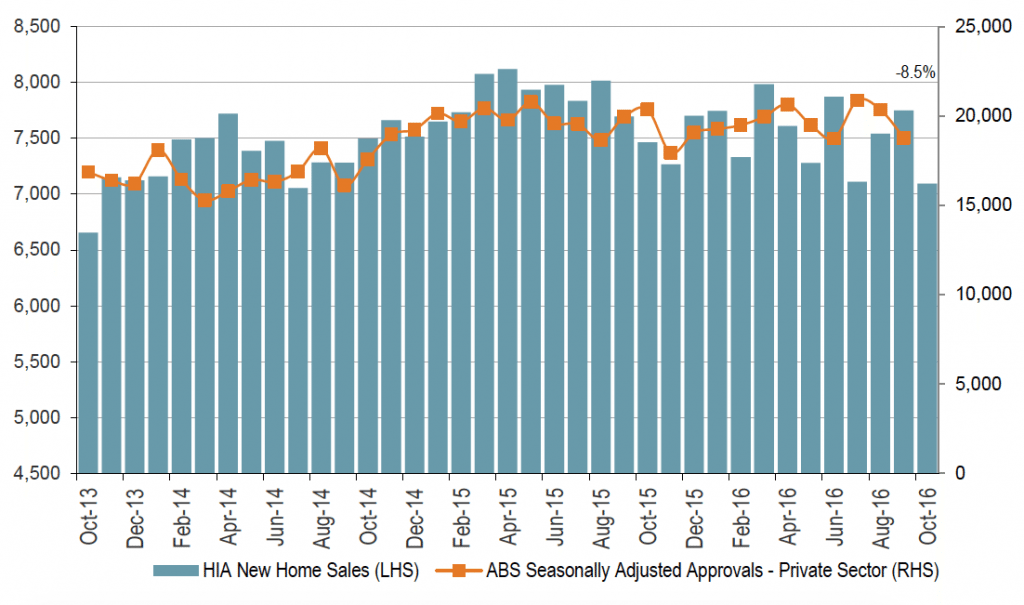 Article source: http://feedproxy.google.com/~r/API_Property_News/~3/JrBugRzQYEs/