Many Sydney suburbs are facing property oversupply according to a new study by national property market researcher Propertyology.
Building approval volumes have never been higher in Sydney than the last three consecutive calendar years according to Propertyology market analyst Simon Pressley.
"Sydney is about to enter new territory. Its average annual population growth rate has consistently hovered around 1.6 per cent but supply is really ramping up; things are out of sync."
Property supply in 18 of Sydney's 43 local government authorities (LGAs) is 100 per cent higher than historical averages. Supply in a further 10 LGAs has 50 per cent more than normal in its pipeline.
The research shows the average number of new dwellings approved in Greater Sydney each year for the 10 years ending 2011 was 22,555. The annual average dwelling approvals for the following four years between 2012 and 2015 was significantly higher at 38,225.
"The trend is not abating either. A further 51,106 dwellings were approved in 2015," Pressley says.
"The official data analysed by Propertyology leaves us in no doubt that several pockets of Sydney will become oversupplied."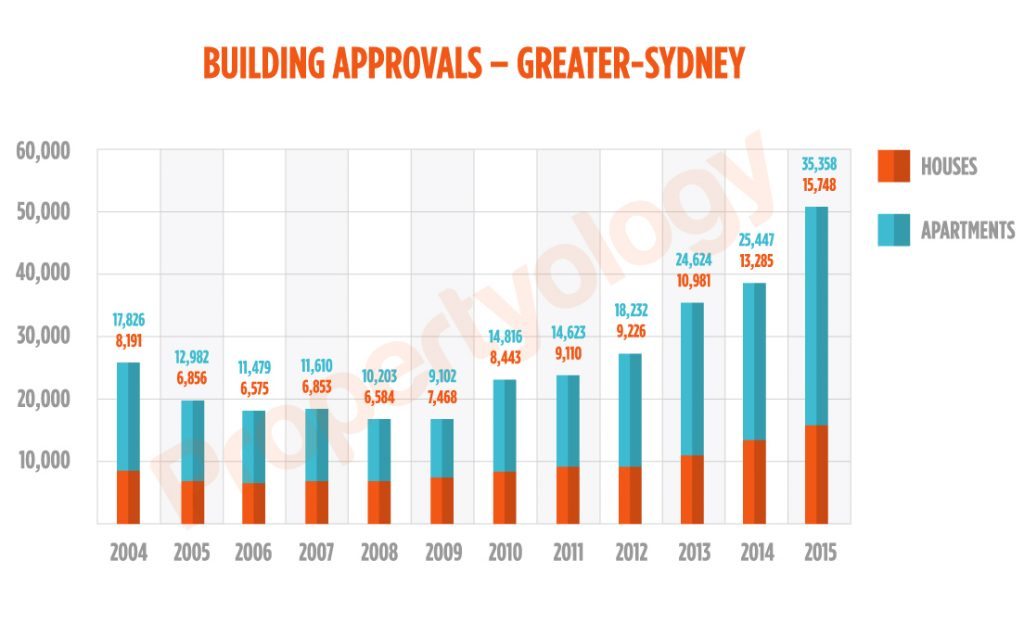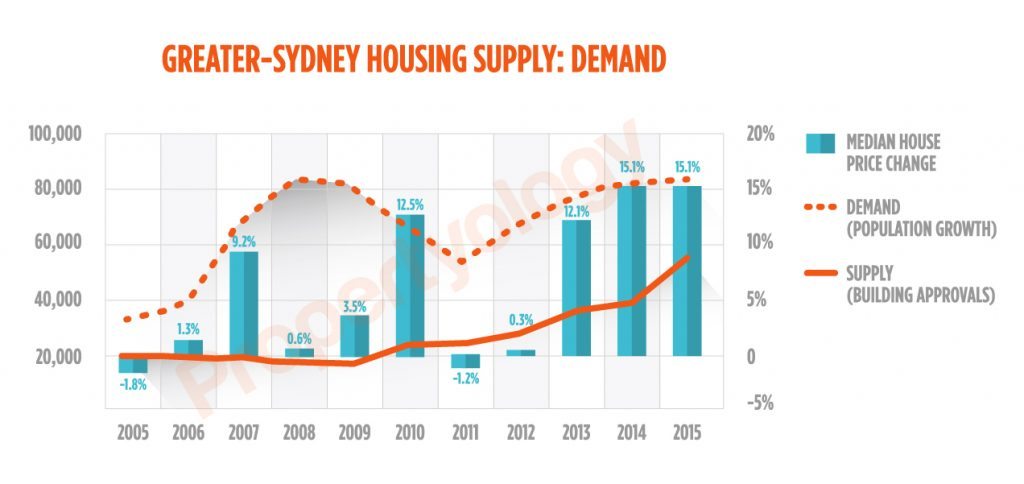 Where?
According to the study, the following city councils are at risk of oversupply in the short-term due to double the amount of normal supply being rolled out in the next couple of years:
Mid-north – Hornsby and The Hills
Lower north – Lane Cove, Ryde and Willoughby
Inner south – Rockdale and HurstvilleMid-South Canterbury and Bankstown
Outer south – Camden, Campbelltown and Liverpool
Inner west – Ashfield, Burwood and Strathfield
Outer west – Penrith

Market forecast
Propertyology anticipates that property price growth will be moderate.
"Sydney's economy is likely to remain strong, providing a solid floor under its property market generally, but that's not to say there aren't a few cracks. Several pockets may well see price declines," Pressley says.
Sydney rental yields are already amongst the lowest in the country and Pressley believes there'll be some easing of rents over the next few years.
Foreign investment
While Sydney's economy remains strong, partly due to its substantial infrastructure program, its property market also remains sensitive to demand reductions from local and foreign investors as well as settlement risks from off-the-plan buyers.
"The significant increase in property holdings to Asian investors does pose some risk if significant destabilisation in Asian economies were to occur," Pressley says.
"Some off-the-plan buyers with settlements due in 2017 and 2018 also risk losing their deposit as a result of tighter credit policies subsequent to the initial exchange of contracts or lower valuations in some of the potentially oversupplied pockets of Sydney."
While not on the economic radar yet, Pressley says future interest rates rises will mean property pain for Sydney in the years ahead.
"In a market where many households are managing a mortgage of about $800,000, it wouldn't take many interest rate rises to put the Sydney property market back on its knees," he says.
Article source: http://feedproxy.google.com/~r/API_Property_News/~3/S_M7nJ1lIPk/